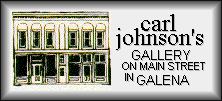 ---
YOU, our loyal customers, are a very important part of our business. We appreciate your friendship and support, and will continue to do everything we can to serve your desires and needs.

Carl's Main Street gallery is now closed. His originals are available at Marilyn's "Old Stockade"on the Cobblestone Street. Open by chance or appointment. Prints ordered from his Website may be picked up there. Carl's cell: 815-238-3248

Shipping by Priority Mail (USPS) $35.00-75.00 framed / $15.00-30.00 unframed (larger works $40.00-50.00 and $20.00-25.00). Illinois residents are subject to 8.25% sales tax

Complimentary gift wrapping, of course.

Pay with all major credit cards or by personal check. And, we do accept Cash.

Carl paints wherever he is, in every season. Our Gallery walls change frequently. He paints original watercolors regularly in Galena, our countryside and Chicago. Currently there are reproductions of Galena scenes, Ballparks, Dubuque prints, Barns, Riverboats, Chicago overviews and Florals. A lot to choose from! Carl's Galena book, etchings and note cards complete our selection.

When you're in Galena, drop in and see what's new!
About the artist...
Carl's interest in art and his early talent have shaped his life. He holds a BFA in Design from the University of Illinois/Champaign and became a commercial artist in the metro Chicago area. In 1970 he moved to Galena, Illinois to paint full time. Galena's Historic District has greatly inspired him in developing his pen-and-ink and watercolor technique to record historic architecture.
In 1977 Carl published The building of Galena: An Architectural Legacy, including 15 watercolor illustrations.
---

About the Gallery...
The Gallery will CLOSE on January 1, 2015. He will continue to sell his artwork on line.
---
About Carl's Paintings...
Carl always paints 'on location'. He respects and enjoys his surroundings... wherever he is. His world is a changing world of place, season and light. Using pen and ink he details his architectural subjects, adding watercolor to give the drawings life and atmosphere. Carl prefers to let color alone define natural subjects, like rural landscapes or flowers.
---
---
Feedback
---

YaHey,cjart@cjart.net or call us at 815-777-1222

---